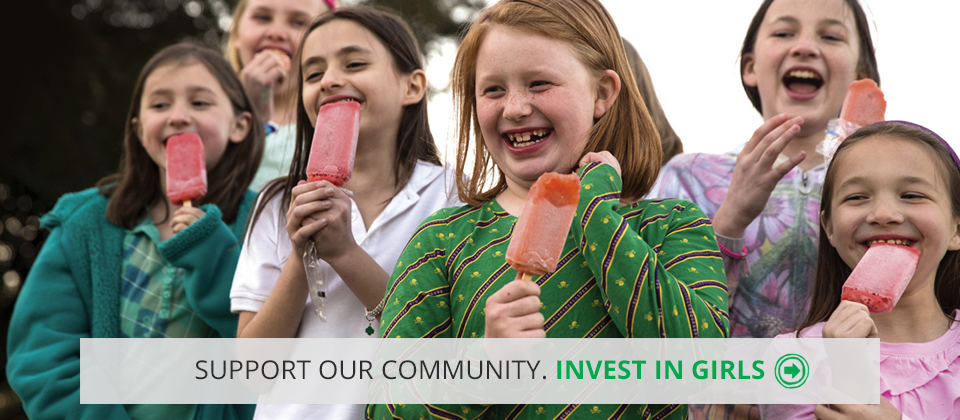 Annual Giving
Annual Campaign - Supporting Each Other
The Girl Scouts of Kentuckiana council provides leadership opportunities and outcome-based programming to more than 6,000 girls, grades K-12, throughout our 64 counties in Kentucky and Southern Indiana. Your contribution to the Annual Campaign will help to benefit every Girl Scout in our council by providing needed resources, programs, and support.
About the Campaign
We know you consider carefully when you make a charitable gift. Please know that you are contributing to an organization with a powerful voice for the development of young women in our community. Your personal gift of $25, $50, or the amount you can best afford, provides valuable dollars which allow us to offer more programs, create better camping facilities, and reach more girls than ever before. You witness firsthand the positive influence Girl Scouting has on the lives of girls. Not only is your family enriched, but you community is improved, as well. Girl Scouts provide hundreds of hours of community service throughout their scouting experience.

Options for Giving
Your heartfelt gift can be made in several easy ways. If paying by check, click the link below to download the donor card, and mail it in with your check to the address below.
Please make checks payable to:
Girl Scouts of Kentuckiana
2115 Lexington Road
Louisville, KY 40206
An easy way to give is to make a pledge, and we will bill you in three-month increments from the date of your gift. This enables you to give a larger gift than might be otherwise possible if you had to write just one check. A pledge can be made by using the same donor card above.
You can also become a member of the Juliette Gordon Low Society by making a planned gift to our endowment fund. Call or write to learn about these types of gift opportunities:

Wills

Charitable Trusts

GSUSA Pooled Income Fund

Property

Life Insurance

Annuities
Bricks and Blocks Campaign
Honor a loved one on the Wall of Fame. Honor your troop, group, or individual with a brick or block in the Court of Honor at the Girl Scout Program & Learning Center (located in Louisville, KY, and serving 64 counties). Troops and/or individuals can be honored through the purchase of an engraved commemorative block (the block is 6 lines with 14 characters in each line) for $300 or an engraved commemorative brick (the brick is 3 lines with 14 characters in each line) for $150 to be placed in the Court of Honor. We will continue to take orders until the Court of Honor is full.