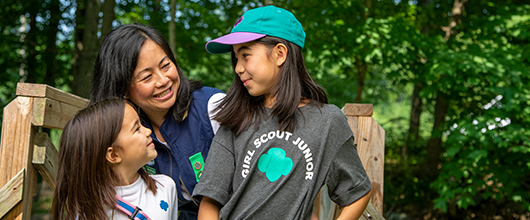 Why Volunteer
Help Girl Scouts dream big.

Change-makers. Trailblazers. Explorers. We're talking about Girl Scouts, of course, but we're also talking about the people who become Girl Scout volunteers.
Just like the Girl Scouts they guide, volunteers lead with their hearts and bring a playful sense of curiosity to everything they do. Whatever their unique skills or interests, volunteers help Girl Scouts unlock their limitless potential and make a lasting difference in the world.
See for yourself how empowering it is to be a role model. Look for Girl Scout volunteer opportunities near you—whether you're looking for short-term opportunities or to start a troop of your own, connect with your local Girl Scout council and start making an impact.

After you join, and before we can approve you in a role, you need to complete your background check. After registration, you will receive an email from "Girl Scouts of Kentuckiana <theadvocates@sterlingvolunteers.com>," a third-party company that specializes in volunteer background checks. This email may go to your promotions, spam, or junk folder, so be sure to check those when looking for it. The background check can take anywhere from 2 days to 3 weeks to process depending on where you live, so it is best to get this done as quickly as possible.

If you cannot find their email or the link is expired, you may also visit their website and submit it there:
Visit their website at www.sterlingvolunteers.com.
a.      Click on Get Started.
b.     Click on Learn More under I'm a Volunteer.
c.      Select click here.

d.     Use this Good Deed Code: z0l2ca8 (z – zero – lowercase L – 2 c a 8)
Please note Girl Scouts of the USA has a
no refunds policy for membership fees.