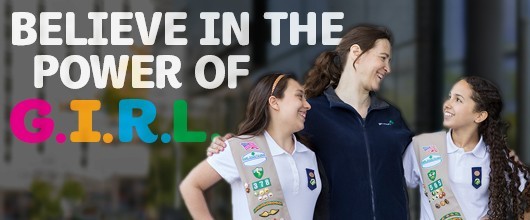 Renew
You are more than a Girl Scout. 
You're a G.I.R.L. (Go-getter, Innovator, Risk-taker, Leader)™ powerhouse!
We believe there's no such thing as too much. That there's no excuse for making excuses. Our strength doesn't come from how much we can lift but from how often we can lift ourselves back up. And this is the perfect place to do just that—a place where "Can I?" quickly turns into "I will!," and there is no challenge we can't overcome together. Because we are everyday optimists. Adventure-seekers. Self-starters. Problem-solvers. Change-makers. We are girls, troop leaders, mentors, advocates, parents, and Girl Scouts. We are G.I.R.L.s. And we can't stop, won't stop. 
GSK Early Bird Rewards
Renew April 1 - June 27, and get your rewards!
They say the early bird gets the worm but at GSK, the Early Bird gets the rewards! Better act fast - some of these awesome rewards are only available for a limited time. See all the rewards below or download the Early Bird Rewards Flyer.
Girl Rewards Due Dates

Troop Rewards

Troop Rewards

Early Bird Rewards wouldn't be complete without rewarding Troops who go above and beyond.  

Renew at least 65% of 2019 girl members and renew/register at least one leader and at least one co-leader, both of whom have current background checks by June 27 to earn  2 adult Early Bird T-shirts and $50 in Kentuckiana Credits for your troop.

Service Unit Rewards

Total Girl Membership Rewards

Service Unit Rewards

Meeting goals takes Service Units and Troops working together and we want to reward your success. Whether new or renewing, we want Girl Scouts to be available to every girl that wants to join.

Service Units that meet girl goals by December 15th will earn rewards. More information about Service Unit rewards and goals coming Spring 2019.

Renew with Kentuckiana Credits - Troops Only
When a troop renews online and pays with a troop debit card, the troop may request a reimbursement using the Kentuckiana Credit Swap Form. Individuals may not swap Kentuckiana Credits for reimbursement.